The Awakening Hour Podcast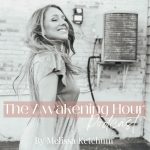 Ep. 4 Mastering the Art of Surrender
Ep. 5 Calling Our Power Back
In this episode, Melissa will cover how powerful mastering the art of surrender can be in your life and how the most miraculous occurrences can take place when you get out of your own way and let the great mystery work in your favor. She shares a personal story with how a difficult breakup introduced her to the potency and magic that lives within the act of surrender and how this valuable life lesson has allowed her experience to completely transform, what a gift! The art of surrender is a powerful and life changing practice and a crucial component for welcoming in greater and more aligned experiences. We can't wait for you to listen, this is an episode you won't want to miss!
Come along on this epic journey and let's get lit from within!
For any questions, topics ideas, or if you'd like to work with Melissa personally, please send an email to Melissa@gildedheartcoaching.com or visit her website at www.gildedheartcoaching.com
Follow Melissa on Social @melissa.a.ketchum @gilded.heart.coaching
Stay Connected & Subscribe
New episodes are published often. Check back regularly to catch the latest episodes!