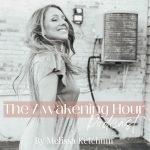 The Awakening Hour is a podcast for spiritual beings navigating this human experience! Allow your host Melissa Ketchum to guide you through an exploration of the soul, guiding you back home to the truth of who you are. Be prepared to experience profound transformation within your own life as you join in on this epic journey.
Melissa will provide words of encouragement, inspiration, and insight as she speaks from her own personal experience of evolution and transformation.
You can look forward to a new episode every Friday, so be sure to subscribe so you don't miss a beat! Let's get lit from within!
Follow on Social @nomadic.minister
For questions or booking: Melissa@gildedheartcoaching.com
www.GildedHeartCoaching.com