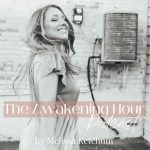 In Episode 15 Healing Meditation Retreat in Florida Melissa shares how she spent time in a meditative state to receive the healing benefits of the EE System, among many other healing modalities. She shares what she experience while in this high vibrational energy and what nights and healing opportunities occurred. 
Trigger warning – Within this episode, Melissa shares her personal experience with cutting and how she's developed the desire to heal old traumas around how she treated herself. 
We are now taking applications for a Summer 2023 women's retreat to Crestone, CO. On this retreat you will experience spontaneous healings, serenity, and transformation. If you'd like to apply please send an email to Melissa@GildedHeartCoaching.com to express your interest and receive the application.
Follow @HuxleyandMyrrh to stay up to date with any workshops, retreats, or special events produced by Melissa Ketchum
If you'd like to follow Melissa on Social Media – @Melissa.A.Ketchum or @GildedHeartCoaching
Come along on this epic journey, and let's get L I T from WITHIN!