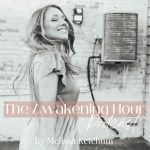 In Episode 19 A Guided Meditation for an Energetic Rebirth! you will be guided through a transformation experience that will connect you to the Oneness and the Creator within to receive hope, renewal, and energetic upgrades for the Spring. You will shed the old thought forms and density that no longer aligns with the collective ascension that is taking place upon the planet.
Follow Melissa on Social Media – @Melissa.A.Ketchum or @GildedHeartCoaching
Come along on this epic journey, and let's get L I T from WITHIN!
—
Support this podcast: https://podcasters.spotify.com/pod/show/theawakeninghour/support