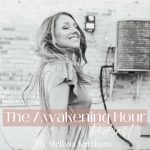 In Episode 20 Usui Holy Fire Reiki, The Benefits & Origin, your host, Melissa Ketchum explains her experience as a Usui Holy Fire Reiki Master. She details the origin, the benefits, and how she facilitates these healing ceremonies for her clients.  Reiki treats the whole person including body, emotions, mind and spirit creating many beneficial effects that include relaxation and feelings of peace, security and wellbeing. Many have reported miraculous results. Reiki is a simple, natural and safe method of spiritual healing and self-improvement that everyone can use. This is a fascinating topic you won't want to miss out on!
Follow Melissa on Social Media – @Melissa.A.Ketchum or @GildedHeartCoaching
Come along on this epic journey, and let's get L I T from WITHIN!
—
Support this podcast: https://podcasters.spotify.com/pod/show/theawakeninghour/support