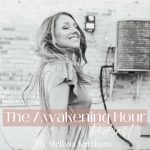 In Ep. 21 My Sober Awakening ft. KISS, our host, Melissa Ketchum, shares the experience that kicked off her sobriety. This is a relatable and raw retelling of the moment that changed the entire duration her life. If you're considering sobriety or you're sober curious, this episode may inspire you to make the commitment towards a clearer mind. This episode may change your life!
Follow Melissa on Social Media – @Melissa.A.Ketchum or @GildedHeartCoaching
To inquire about booking a session or speaking engagement, visit — GildedHeartCoaching.com
Come along on this epic journey, and let's get L I T from WITHIN!
—
Support this podcast: https://podcasters.spotify.com/pod/show/theawakeninghour/support