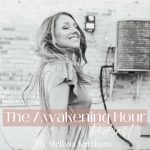 What does being bold mean to you? In this episode, we explore what it means to truly be bold and how we can create and imagine through the lens of unlimited possibility.
If you have a question about this episode or would like to work with Melissa personally, please send an email to Melissa@GildedHeartCoaching.com
If you enjoyed this content, please subscribe to this podcast, share with a friend or leave a review!
You can follow Melissa @Melissa.A.Ketchum on Instagram, Facebook, & Youtube for more inspirational teachings, healing messages, & positive words of affirmation
—
Support this podcast: https://podcasters.spotify.com/pod/show/theawakeninghour/support