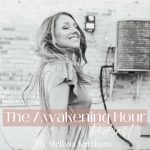 In the "Meet The Clairs" series, we're focusing on a different spiritual Clair sense In this episode we focus on clairsentience, also known as "clear feeling" When someone is connected to this spiritual gift, it may seem like you're "feeling" everything, you may feel open and receptive to various energies within a particular person, space, or circumstance. You might know just by walking into a room that something is wrong. You're basically a walking antenna and you can feel into the energy and sense what's happening on a spiritual level. If you feel curious about this spiritual gift then this is the episode for you!
Work with Me! – Melissa@gildedheartcoaching.com  ⁠
Book A Complimentary Soul Discovery Call — ⁠HERE⁠
Let's interact through social! — ⁠@Melissa.A.Ketchum⁠ ⁠@gilded.heart.coaching⁠ ⁠@meli.made.artistry⁠ ⁠@huxley.and.myrrh⁠
Stay Weird & Wonderful my Friends!