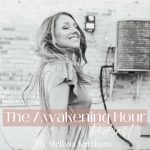 Enjoy this powerful Lion's Gate energy report for August 7th-13th! This report will help you move through this very potent energy with sure footing and confidence as you forge ahead in the direction that is meant for you. This report will provide some really useful tips to help harness the energy for your highest and greatest good so that you an tap into your highest potential. This is a report you won't want to miss!
Melissa@gildedheartcoaching.com 
Book A Complimentary Soul Discovery Call — HERE
Let's interact through social! — @Melissa.A.Ketchum@gilded.heart.coaching @meli.made.artistry @huxley.and.myrrh
Stay Weird & Wonderful my Friends!