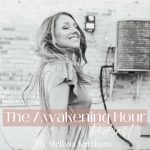 Enjoy this Energy Report for August14-20th. In this report, I combine relevant astrology, intuitive downloads, and oracle and tarot cards to generate a report that will walk you through each day with sure footing and guidance. This is a report you won't want to miss!
Melissa@gildedheartcoaching.com 
Book A Complimentary Soul Discovery Call — HERE
Let's interact through social! — @Melissa.A.Ketchum@gilded.heart.coaching @meli.made.artistry @huxley.and.myrrh
Stay Weird & Wonderful my Friends!