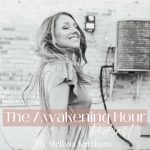 In this episode, I'm so excited to talk about clairegustance, also known as "clear tasting" one of the rarest spiritual gifts!
In the "Meet The Clairs' series, we explore these gifts and how you can harness them to serve humanity through healing, transfromation, and hope so I feel that one of the best things I've done for my soul and this collective awakening was to welcome in and accept my gifts so that I could contribute to humanity.
// Work with Me // 
Melissa@gildedheartcoaching.com  ⁠
Book A Complimentary Soul Discovery Call — ⁠HERE⁠
// Let's Interact //
@Melissa.A.Ketchum⁠ ⁠- Facebook, Instagram, TikTok, & Youtube
Stay Weird & Wonderful my Friends!