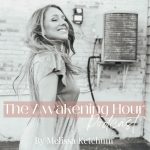 In this episode, Speak Your Truth, Even If Your Voice Shakes, out host Melissa Ketchum shares her experience with a Bipolar 1 diagnosis and she's decided to speak publicly about it over the past several years.
She believes this needs to be spoken about to end the stigma and bring awareness and compassion to those who suffer with afflictions of the mind. and I'm even pushing myself out of my comfort zone to speak to this specifically. Before I share my personal journey with poor mental health.
Melissa is not a doctor or medical professional. She's solely here to provide the spiritual perspective and her own experience and story. She believes in the importance of combining the scientific and spiritual to work hand in hand.
This episode provides so much hope and healing, we hope that you can join us on this epic journey of getting lit from within.
For any questions, topics ideas, or id you'd like to work with Melissa personally, please send an email to Melissa@gildedheartcoaching.com or visit her website at www.gildedheartcoaching.com
Follow Melissa on Social @Melissa.A.Ketchum @gilded.heart.coaching