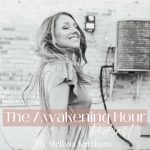 Enjoy this Energy Report for September 17th-24th with top astrological event being the Sun in Virgo trine Pluto in Capricorn, this is the perfect opportunity to become confident in your worth so that you can manifest resources such as financial security & stability. Capricorn and Pluto are strong in will and determination, neither will stop until it achieves it's goals. Capricorns know how to make money, so now's the time to harness this energy when it comes to your own career or business.
Tune into this episode to receive insights, guidance, and spiritual tools that will help you navigate this energy. In this report, I combine relevant astrology, intuitive downloads, and oracle and tarot cards to generate a report that will walk you through each day with sure footing and guidance. This is a report you won't want to miss!
Book A Complimentary Soul Discovery Call — 
Melissa@gildedheartcoaching.com
If you're looking to explore the depths of your soul in a creative and energy positive environment, then I'm your girl! I guide my private clients and group programs into discovering the truth of who they are by developing heart based embodiment techniques that allow them to tap into their intuition to manifest lives of their dreams. I also do in person & distance Angel card readings, Reiki healing, and soul coaching. I'm here to help and assist women to elevate their lives and reach their highest potential! I love to facilitate workshops, experiences, and retreats to help transformation of the deepest level to occur.
Visit www.gildedheartchoaching.com for more information
//Let's interact through Social//  
Instagram – @gilded.heart.coaching
Stay Weird & Wonderful my Friends!