The Awakening Hour Podcast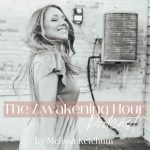 Ep. 14 What Dreams Do you Dare To Dream?
In Episode 14 What Dreams Do You Dare To Dream? We geek out on how fascinating the dreaming process is. When we receive that spark of inspiration or knowing and it is planted within our hearts, knowing on some level that it is meant for us. We discuss the process of unpacking and shedding others opinions as we hold our dream with courage and conviction. When share how when we co-create with the Divine, we take something completely intangible, and then poof it became tangible! In each and every moment, we are consciously co-creating with Divine intelligence, what a gift!
We are now taking applications for a Summer 2023 women's retreat to Crestone, CO. On this retreat, you will experience spontaneous healing, serenity, and transformation. If you'd like to apply please send an email to Melissa@GildedHeartCoaching.com to express your interest and receive the application. 
Follow @HuxleyandMyrrh to stay up to date with any workshops, retreats, or special events produced by Melissa Ketchum 
If you'd like to follow Melissa on Social Media – @Melissa.A.Ketchum or @GildedHeartCoaching
Come along on this epic journey, and let's get L I T from WITHIN! 
Stay Connected & Subscribe
New episodes are published often. Check back regularly to catch the latest episodes!