The Awakening Hour Podcast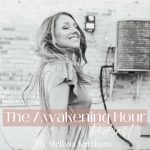 Owning The Most Authentic Version of You! with Kallie Kleinschmidt
In Episode 42, I have such an inspiring, relatable, and, most importantly, authentic conversation with one of my soul sisters and Manifestation & Mindset coach, Kallie Kleinschmidt, with Whole By Kallie. Kallie shares her personal journey with transformation and finding her way back home to her truth. She shares her inspiring journey of discovering the art of manifestation at a Tony Robbin's event to now how she shares the ancient art of manifestation with her clients to help manifest the lives of their dreams. This is such a lovely conversation. I hope you enjoy! Book A Complimentary Soul Discovery Call —  Melissa@gildedheartcoaching.com
If you're looking to explore the depths of your soul in a creative and energy positive environment, then I'm your girl! I guide my private clients and group programs into discovering the truth of who they are by developing heart based embodiment techniques that allow them to tap into their intuition to manifest the lives of their dreams. I also do in person & distance Angel card readings, Reiki healing, and soul coaching. I'm here to help and assist women to elevate their lives and reach their highest potential! I love to facilitate workshops, experiences, and retreats to help the transformation of the deepest level to occur.
Visit www.gildedheartchoaching.com for more information //Let's interact through Social//   Instagram – @gilded.heart.coaching Stay Weird & Wonderful my Friends!
Stay Connected & Subscribe
New episodes are published often. Check back regularly to catch the latest episodes!