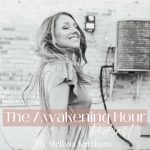 In this Energy Report for September 11th-17th, you can expect to receive guidance that will assist you in exploring the depths of your soul in relation to life purpose and devotional path. The energy of this week will assist you in understanding what you're being called toward in regards to how you can serve this great awakening and how you can shine as a lightwkrker by sharing your unique genius and individual gifts with the world. This is an energy report you won't want to miss!
Book A Complimentary Soul Discovery Call — 
Melissa@gildedheartcoaching.com
If you're looking to explore the depths of your soul in a creative and energy positive environment, then I'm your girl! I guide my private clients and group programs into discovering the truth of who they are by developing heart based embodiment techniques that allow them to tap into their intuition to manifest lives of their dreams. I also do in person & distance Angel card readings, Reiki healing, and soul coaching. I'm here to help and assist women to elevate their lives and reach their highest potential! I love to facilitate workshops, experiences, and retreats to help transformation of the deepest level to occur.
Visit www.gildedheartchoaching.com for more information
//Let's interact through Social//  
Instagram – @gilded.heart.coaching
Stay Weird & Wonderful my Friends!